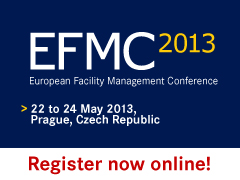 European Facility Management Conference all set for 2013!
One exciting event to add to your calendar for 2013 is the European Facility Management Conference, which will be taking place 22-24 May in Prague.
More than 700 delegates from across the world attended the conference in 2012, and it's shaping up to be another great event in 2013, offering fantastic educational and networking opportunities. This year's focus 'FM for a Sustainable Future' is poised to deliver new research, best practices and trends as identified by Facility Management thought leaders the world over. The conference will play a key role not only in peer to peer education, but also in demonstrating the value of the FM professional in an increasingly crowded marketplace.
EFMC 2013 will host two symposia: one for business and practice and another for research and education, thus bridging two disciplines with respect to shared challenges. Attendees are also invited to participate in additional events such as the Welcome Reception, EuroFM Student Poster Competition, the Gala Dinner, the EuroFM Awards and the exhibition, each recognizing outstanding achievements in Facility Management.
For those who wish to expand their professional contacts, EFMC 2013 offers a platform for networking with delegates and speakers, as well as students, educators, professors and researchers in the field – so don't forget to bring along your business cards!
Registration for the conference is open, so just visit http://www.efmc-conference.com/delegates/ to reserve your place! Early bird discounts are available until

15th March 2013.